Lyrics: Kumaar/ Irfan Kamal/ Danish Sabri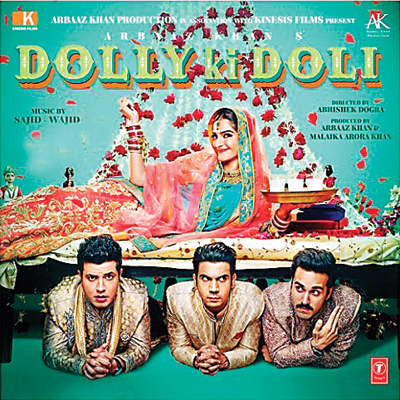 Before I even played this album, I glanced over the song names and their singers: first one is called "Phatte Tak Nachna"- the name itself tells you what kind of song it is, a Punjabi Dance Number, sung by Sunidhi; second one is "Fashion Khatam Mujhpe"- no points for guessing who would have sung titled like this in a Sajid-Wajid album, yes, you're right, Mamta Sharma; third one is called Babaji Ka Thullu (I don't even…); then the title track by Divya Kumar (ok, that could be interesting); final song is Sajid-Wajid's 1398th song on Naina- so I'll start with that:
1. Mere Naina Kafir Hogaye
Sajid-Wajid's yet another song on Naina for Arbaaz Khan's film, sung yet again by Rahat Fateh Ali Khan, has a laidback ambience but lacks a bit thehraav as the arrangement doesn't let Rahat to take the centre-stage. However, the jazzy piano and harmonium's entry into the arrangement are beautiful and the song has some good lyrics too by Kumaar.
Divya Kumar's earthy voice is known for delivering folksy songs in Bollywood, Sajid-Wajid puts him into grunge rock. Brownie points for that. But serious genre and structural issues remain with the song: it doesn't feel completely realized- shehnai is a good bit for the theme of the song but those electronic sounds are too much for a grunge and make it noisy.
The fact that a song named after this phrase got made into a Bollywood song is itself appalling, yet if I am to judge this as a song, it is downright filthy. Not being a music snob and dismissing it for its nonsensicalness, I am all for it, I love Ram Sampath's Delhi Belly, this one is pedestrian cheap and even its musical structure- based on qawalli, mostly- is marred with heavy electronic done till your ears bleed.
Based on lavnee (kind of), premise of the song is regular item song with loads of energy in it. Mamta Sharma, judging her by her caliber and genre, lives upto that energy and sings evocatively. It is the male vocals (Wajid, Shabab Sabri) who spoil it by being deliberately nasal to match up to Sharma.
Can Sajid-Wajid deliver a single dance number whose tune could stick into public memory, post Munni Badnaam? Certainly, even this will not. In fact, a part of the bhangra hoots are very reminiscent of Sukhbir's popular Taare Gin Gin. Even Sunidhi sounds too laborious in this.
What starts with being something listenable goes straight downhill. Dear Sajid-Wajid, can you give us one consistently good, listenable soundtrack? Is that too much to ask for?